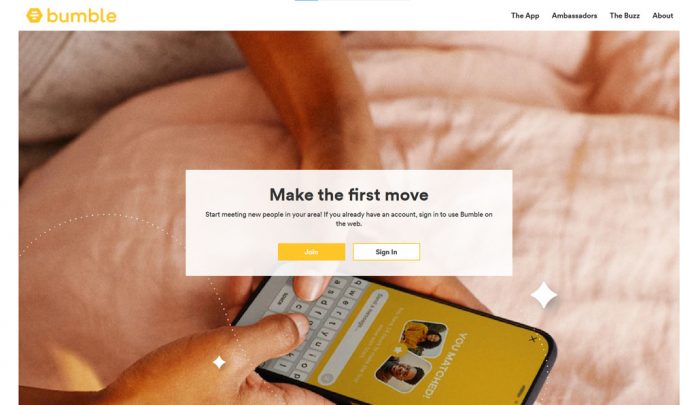 Let's be honest; online dating is already the thing. Although there are still people who prefer to do traditional dating, more and more people are now being hooked on online dating. Online dating, or also known as internet dating, is a revolutionized and modern way of finding and contacting people through the internet, intending to arrange a date or even develop a romantic relationship. Whether you're newly single or have been looking for a partner for quite some time now, finding a new date for you is now a matter of swiping left or right on your mobile screens.
Bumble Alternatives
One of the most famous online dating apps that are very easy to access and download over the phone is Bumble. Just like any other dating apps, Bumble users are required to swipe right if they like the person's profile or left if they're not interested. And if both persons swipe right on each other, then they will be matched and can instantly start chatting. However, in Bumble, girls are required to make the first move, and if they don't start the chat within 24 hours, the conversation will disappear from the chat queue. 
Bumble is one of the best apps for those who are new to the online dating scene. It has also been one of the most used mobile dating apps for people who are hoping to find meaningful relationships. However, not everyone who does online dating is after relationships, and some are just trying to find new people but are not willing to commit. According to a survey, 85% of Bumble users are looking for a long-term commitment. If you're one of the 15% who is not after a serious relationship, then maybe Bumble is not the right app for you. But don't worry, because here are the top 10 alternatives you can use:
Tinder was founded in 2012 and has been one of the pioneers in the mobile dating world. It has been one of the first dating apps to introduce swiping left and right to establish a connection. It also offers paid subscriptions to gain access to premium features. However, Tinder, unlike Bumble, which is more for serious lookers, is more commonly referred to as a hookup app.
In setting up an account on Tinder, you just need to create a profile putting in your current location, age, gender, and gender preference. And once done, you can start using Tinder. Signing up on Tinder gives you a list of other users' names, photos, and a short biography. Simply swipe left if you dislike what you see, or swipe right if you're interested. Tinders uses an algorithm that matches users based on how actively they use the app and based on their location.
Meet Me is another alternative to Bumble. It is also an online dating app that allows users to meet new people and possibly spark a relationship. But unlike the traditional swiping left and right, Meet Me allows users to play games to get to know each other. Meet Me currently has 4.5 million active users, with 190,000 new members each day.
Setting up an account on Meet Me gives users a long list of profiles of other users nearby. This gives you the chance to meet someone who is in the same community as you. Meet Me also encourages users to reply and meet fellow users in person.
 Aside from the fun games, Meet Me also features a messaging option that lets users chat with each other and get to know each other. You can also upload images and share interesting information through profile tags or simply include interesting facts about your profile description. 
Match has a lot of success stories of people finding true love from this online dating platform. Unlike Tinder which is more of a hookup app, Match is a place where most users are looking for serious and long-term relationships. The Match dating app initially started as a website in 1995 as Match.com and is one of the oldest dating service sites. Match has approximately 21 million users across 24 countries.
In setting up an account, Match will ask you to put your details, along with the information about what your ideal partner is, your zip code, and even your thoughts about having children.
Match, however, is more expensive compared to Bumble or Tinder. To gain access to a full Match experience, you must pay $45 per month. The price will eventually go down the longer you use the service. But if you're someone who's seriously looking for a lifetime partner, then paying for Match can be worth it as it will give you more than enough information to find someone worth committing. 
Before, Facebook was only famous as a social networking platform. But since then, Facebook has evolved and launched the Facebook Dating service on their app and is now allowing users to find love through the social media giant potentially.
Facebook Dating allows users to find a match based on users' app activities, dating preferences, mutual friends, groups, and event activities. The service is available in the Facebook mobile app and no longer requires additional downloads. You can find the Facebook Dating option on the top-right menu, where the Marketplace and groups are located.
Users can choose what information from their Facebook profile they want to share on Facebook Dating. Users will also no longer see users they are already friends with on Facebook or those they blocked. This ensures users that the people they can find in Facebook dating are new and not someone they already met.
Facebook's dating algorithm selects potential matches by location, gender, job title, company, or school, and based on the gender they're interested in. But instead of swiping right or left, Facebook dating allows users to click the heart button to indicate interest.
While it may not be as popular as Bumble or Tinder, Badoo is actually popular in the US. The Badoo app was founded in 2006 and had over 6 million users in the US. Badoo is a social network site like Facebook and is not solely used for finding love. It is designed to connect users with other people nearby who share the same interest for all purposes other than just pure dating.
Badoo also has numerous safety features to ensure that users are verified and are real people. When you first sign up, you need to select whether you want to meet people to date, chat, or make friends. So if you are someone who wants to casually meet people, with or without the intention of dating, then Badoo is your best option.
With over 40 million users across 80 countries, Zoosk is one of the best alternatives to Bumble. The Zoosk app lets users be matched with people nearby. It also features 25 languages, making it easy to find people using your native language even if you are on vacation in a different country.
Zoosk uses a matchmaking algorithm that delivers better matches between users. Matches are based on who the users are liking, chatting, and winking. It is also super easy to set up an account as you only need a valid Facebook account or a working email. And unlike Match, you are not required to answer a lot of questions. Once your account is set up, you can start going through profiles of other users, and your profile can be seen by other users as well.
Zoosk also provides users a "Boost" feature to spike profile views, therefore increasing the chances of being matched. You can refine your searches from people within 3 to 100 miles of your location. Or you can also go a bit picky and refined preferences for height, religion, relationship history, body type, ethnicity, and even education.
Happn is a newly introduced mobile dating app that uses a mobile phone's location to find potential matches. Signing up is easy and free, as you just need a valid Facebook account or mobile number. Unlike Tinder or Bumble, where you swipe right or left to like or dislike a profile, Happn allows users to like the profiles they're interested in by tapping a heart icon or X icon to dislike. If you want to gain access to more features like rewinding and sending charms to accounts so you can get noticed, then you can subscribe to Happn Premium for $25 a month. 
Happn currently has 20 million users around the globe. Upon opening the app, you'll see a grid of profile photos of other Happn users with whom you have crossed paths. It also shows how many times you have crossed paths with these users and the approximate location of where you were at that time.
Originally launched in 2000 as a dating website, eHarmony has also been one of the famous alternatives to Bumble, especially to those who are looking for serious relationships. With over 10 million marriage-minded users, it is very easy to find someone who's looking to commit for the long term.
In 2013, eHarmony was the top platform that creates marriages out of an online dating service. So if you're someone who's looking for someone to marry, then it's time for you to switch from Bumble to eHarmony. However, signing up is quite tedious as you need to complete a 70-items compatibility questionnaire which takes around 20 minutes to complete, to make sure that you can find your best match. For every profile you come across, a color-coded graphic will show how compatible you are, based on the questionnaires you have answered.
eHarmony is pretty confident in giving their users and subscribers the best matchmaking experience as they can guarantee that if you're not satisfied with their service in three months, they'll give you a three months free subscription.
The Hinge app was launched in 2012 with the aim of making people find relationships and have meaningful connections with other users rather than just being friends or engaging in hookups.
Unlike Bumble, which requires little information when signing up, Hinge will ask about more than just a photo. It will also ask you about your virtues, vitals, and vices. These include questions about your religious and political beliefs, ethnicity, whether or not you have kids, your drinking and smoking habits, and more. But aside from these, you will also be asked about three questions from a list which includes questions like the next place you want to go to for a vacation, your favorite Spotify song, or something you're bad at.
These questions are required to ensure that the user profile reveals who users are at a more personal level. Aside from that, it will be so much easier to start a conversation based on the interests and details you can find on the profile.
OKCupid is more than just a swipe-and-like dating app like Tinder or Bumble, as it lets you choose whether you're looking for new friends or you're after short-term or long-term dating.
When signing up, you are required to put in information about yourself. Once done, you need to take a quiz about religion, astrology, and politics to help calculate the best matches for you. Aside from these questions, you can also opt to answer more questions as you want.
Upon signing up, you'll see a parade of profiles. The matchmaking is based on the profile questions, and when visiting the profile of other users, you can also view their answers to the questions they have selected. A percentage is also included to show how compatible you. You can then choose to swipe left or right to show interest. Though this feature is the same with Bumble, OKCupid allows users to undo a left-swipe for free.
The Conclusion – The dating avenues have changed.

While online dating apps change the ways of dating, we can't deny the fact that it also opens up new and unlimited possibilities in finding relationships, not just for all hopeless romantics but for everyone trying to find one true love.
Also read: 10 Best Tinder Alternatives