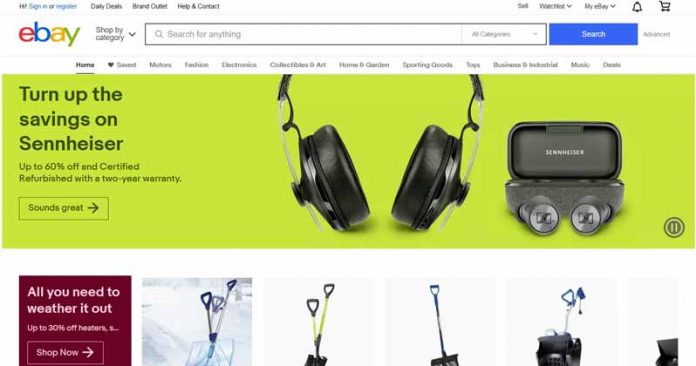 eBay is one of the most established online marketplaces around. Just for its sheer age, one could say that it already has stood the test of time. It started back in the mid-1990s. Since then, it has continued to grow and build a name for itself globally.
eBay

alternative websites
What makes it a unique platform is you don't necessarily get the products and buy them at a fixed price point. You will have the option of bidding on many of its items. Whoever has the best bid takes home the item, which sometimes presents you an opportunity to get it cheaper than its retail value. Practically speaking, it has everything that you can think of on the Internet. 
Below are some of the alternatives you can resort to if you're after eBay's alternatives. 
Let's just say that as far as reliability is concerned, Amazon truly delivers. In the industry of eCommerce, Amazon has the strongest name. In the field of technology, it is also among the most valuable brands as it is aggressively expanding its business umbrella to cover other business models.
It has a well-established system and logistics that guaranty quality and timely delivery. It is continuously evolving and embracing innovative approaches in eCommerce. It's starting to automate its shipping methods across the US. To put it simply, Amazon spearheaded and popularized online selling. It started just when the Internet was still at its inception and starting to bubble. True to its promise and reputation, it remains the top choice for most. 
Don't mistake Etsy for one of your ordinary online shops. Apart from the typical retailers like Amazon, Etsy is somewhat specialized. Not a general online merchandise store, Etsy gravitates towards consumers who have a penchant for handcrafted goods and keepsakes. While it doesn't sell consumer products, it does sell, truly, unique items you will rarely find anywhere else. For thoughtful gifts for a reflective gesture, it offers and provides innumerable options.
Like Amazon, it has reaped its fame for its reliability and pleasant customer reviews. For a collector, Etsy bears elusive supplies. For an artisan, it is the perfect place to showcase their craftsmanship and sell. It is a community that binds lovers of handcrafted commodities together.
FreeAdsTime doesn't compare directly with either eBay or Amazon. What sets it apart from the major online retailers is it provides listing services. More than a platform to sell goods and supplies, it serves as a place to trade and promote services, ideally, with the local community. With that said, if you have a service or a product to offer, this website provides a viable and effective way to sell it within your locality.
If you are a consumer who is looking to find local items, this is a helpful place to visit. Great reviews are ubiquitous. The website is easy to navigate, and it is local. 
NewEgg is a well-established online retail shop. However, to cut it short, it is custom-built to house electronic gadgets, hardware, and devices. It is a much more specialized version of Amazon. From time-to-time, you get the chance to get huge savings and promising deals. They claim to have the best prices as far as electronics and computer-related products and accessories are matters of concern.
It's been around for a few decades. Before the Internet, they have actual stores that consumers can walk into. While they still do that until this point, they have now acknowledged innovation and branched out into online retailing, which they are significantly doing well. Shop online with them and have an option for pick up or shipping. 
Alibaba is Asia's Amazon. Gargantuan in size, gargantuan in reputation, and gargantuan in popularity. Although it is based in Asia, it has a robust global scope that reaches the US and Europe. The books hold the place to be the strongest competitor of Amazon by its sheer size and influence alone.
It performs well for wholesale purchases. As a retail platform, it acts as an intermediary between the seller and the consumer. It doesn't manufacture directly and doesn't have in its possession actual warehouses, which makes its business model different from that of Amazon. It bridges the manufacturers and consumers. Unlike eBay, it sells at a fixed price point and doesn't auction the supplies. 
H1ad is a listing-service provider, mainly. To find great services or products that you want to transact with, preferably within your locality, this would be a great platform. In addition to that, if your goal is to sell your talent, skill, or own product, this will help you to reach out to our audience. It isn't entirely a network where you can bid to achieve ownership of a particular item. Its strength comes from letting you advertise. It is service-centered as opposed to product-centered. That doesn't mean, however, that goods or products aren't being sold here. There are a few, but this is designed to advertise.
GigantcList makes it in the list for having a nifty ad posting and listing. It's an eCommerce platform that allows you to promote your own product or services. It's not an online retailer in the sense that eBay or Amazon is.
It just doesn't only allow you to sell and buy, but it also allows you to advertise for different categories, such as vehicles, real estate, to name a few. It enables you to reach out to transact business with the people within your community. And you don't only purchase a product, you can purchase service here as well, such as when you need a contractor to renovate your home. 
Bonanza can compare directly to eBay that it does allow bidding as well. But more than that, it's also a platform that connects buyers and sellers. It serves as a place that connects the two. When you buy through it, you do not buy directly from them. You buy from the seller that posted the product on their website.
So, it would help if you still put in a lot of thoughts and extra attention to make sure you get what's right for your money. Overall, it's a good place to conduct your business as the sellers offer a very reasonable price, even cheaper than that of eBay sometimes. They claim to have been named one of the Best Entrepreneurial Companies in America on their homepage. 
If you care for simplicity and neatness, Shopolop will be right on your money and time. It is another online marketplace that just doesn't let you buy but also offers you to sell your product. It has become a standard today, but it impresses and stands out.
It is simple and straightforward to navigate around. It is not cluttered, so you have less distraction, and you can focus more on your shopping and the products you want to get. It has many products under its belt, and it allows you to change your currency into AUD, CAD, EUR, GBP, USD. It also accepts different ApplePay and GooglePay in addition to the standard credit cards. 
eCrater makes it to this list as an online marketplace. But there's more to it than that. In addition to allowing you to buy, it also allows you to build your marketplace. Here, you can make your online store 100% for free, which is an excellent opportunity for diving into eCommerce. So, if you have an array of products to sell, this one will suit you to simplify the process and give you a real sense of running your eCommerce. It has a wide range of product categories, from "antiques" to "video games." The list goes on. The prices are reasonable and affordable.
The Conclusion – You Probably Will Love Them of All!
There are certainly more websites out there serving services similar to eBay; however, the top ten on this page should get you started on your journey.
As for which item will serve you the best, you will need to go ahead and try them out. That's the certain way to select the best option for your needs.
Also read: 10 Best Craigslist Alternative Websites