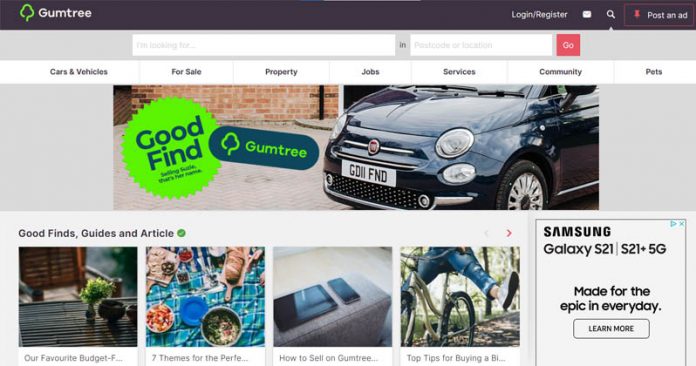 Gumtree is one of the best free classified websites available. Not only that, it has a highly-spirited atmosphere, but highly intuitive. It's not a surprise that a lot love it. Colors and added functionalities are all over the place. Here, in addition to listing your service, you're also able to do many more things to know your audience. 
With a blog-like atmosphere and community-driven approach, it's not difficult to understand why many would prefer to do business here over other classified websites. A listing review aggregate gives it a highly favorable rating. While Gumtree should be among your top choices, you're not limited to it as other great alternatives are equally amazing. 
1. Craigslist 
Among the most obvious alternatives is Craigslist. But, let me first tell you that while it has the same uses as Gumtree, it may look far more different. While Gumtree puts so much effort into its design and neatness, Craigslist cares very much about getting your ads to be on board. It does it so well that one can't deny that the website boasts a great audience. Everything and everyone is right here in this community. 
One can think that it's a crowded place. But don't take that negatively. There's tight competition – yes. On a positive note, that presents great opportunities to do well and stand out. Buyers and soft-shoppers flock to Craigslist as, for many, it's among the first options. It may not look as flashy as some of its competitors. Nonetheless, it's simple and intuitive. It suffices to say that it does everything that you expect it to do with flying colors. You definitely can count on it. 
2. OLX
It's one of the biggest and among the leading names for an online marketplace. Its scope wide-ranging as its services to over more than 30 countries. It boasts about 200 million active users and a multi-million number of transactions monthly. They are known for their reliability and keeping the transactions safe. As an online marketplace, it mostly operates on selling goods or services that can be shipped. It's more of a platform that allows an individual to sell a physical product than a listing site, where services or any other type of ads can be listed. 
There are essentially two ways that the platform can be used. The first is using the web portal. The second is using their app that's available on iOS and Android devices. Having an app is very convenient as you can upload photos directly from your phone for a product that you're selling. Olx can be compared to Amazon, but this platform gives a lot more flexibility to individual sellers. Sellers don't necessarily have to be business owners or retailers online. They can be non-business owners, regular people that would like to sell stuff. 
3. FreeAdsTime
FreeAdsTime doesn't waste any of its resources on unnecessary bells and whistles. It's a straightforward listing platform that gives advertisers and sellers great flexibility in posting their ads. Not only that it focuses and connects sellers with a physical product, but it also allows general ads for almost any sort of legitimate services to be run. If you are a tutor, or cleaner, or simply looking for a job, you can announce it here. Whichever your business is about, this – sure – is a place to get your word out. 
FreeAdsTime is available worldwide and services most countries in the world. They allow sellers to post ads for free even without having to create an account. But for anyone who's wishing to have more control and ability to manage, then might as well create an account. Because they offer the service for free, you might some ads popping out. The website is well-maintained. For inquiries or questions, you can contact them. If you are lost, you can scroll down to the bottom. There, you will see main sections that sum up every area that FreeAdsTime services. 
4. FinderMaster 
FinderMaster is one of the most organized listing platforms you can ever find around the internet. It doesn't have a flamboyant design and stays away from bold, vivid colors. Hence, it looks very professional and neutral, allowing for a pleasant experience and user-friendly interface. It offers a highly functional arrangement. It won't take too long to find what you're searching for – either you are here to search for a product or to post your advertisement. 
To start using the platform, you will have first to specify your location if you are a seller or a prospective client. This must be specified so you won't be misled when you publish your ad or when you search for a service or product. 
FinderMaster has one of the best ways to post advertisements; it is convenient and easy. It consists of a couple of pages, but the important things can be filled out on one single page. In addition to that, they also give you tips that allow you to maximize your advertisement. Even they already have a very good system; they offer an option for you to post your ad for free for local businesses – something nobody wouldn't want to miss. 
FreeAds is exclusive to the UK. So, unless your target is the UK residents, you might want to skip this one. But, if you want a perfect example of what a great listing service is, FreeAds won't disappoint. Its energetic aura makes it ideal for working. It's clean and simple, but not in a moment dull with its blue-shades-filled design. It even has on its menu a cool Free Stuff feature. So, if you are an advertiser who likes to give away items, this one is perfect for you. The moment that you have gone to a particular meant, a prompt will pop out to ask you if you'd like to subscribe to a newsletter. If yes, you'll have to put your email address. It's a very nifty added value to FreeAds, which makes it all the more unique than other listing services. 
As a seller, you will find it pleasing to post an ad. Every step and aspect is just so nice to look at – very refreshing. However, they will require your email, Gmail, or Facebook account to list your ad successfully. The greatest of it all is that you can use the platform for free, that is, posting an ad without having to pay for it. 
6. H1Ad 
A marketplace that you can always count on that gives your ad the importance it deserves is H1Ad. When you get to its homepage, you will see the options: My Account and Publish Your Ad For Free. Not having an account doesn't forbid you from posting an ad. If you want to want to be more hands-on about your ads and be able to manage them with far more control, you might want to sign up for the account. In filling out the form to be able to post your ad, you will need to select a category from the extensive options available. 
After that, you will have to be thorough about the title and the descriptions section that are available on the next page. It would be best if you took the time to be as concise yet descriptive as possible. The description section only allows a maximum of 320 characters. Having all the important details will help your ad be more visible and extend its reach within your local community. With that said, H1Ad is your best bet if you would like to post an ad that mainly caters to people within your community. 
7. FreeAds24
FreeAds24 may come to a little old school, but you will surely love it for its orderliness and practicality. Despite having a user interface that is reminiscent of the starting days of the internet, it looks very good and easy on the eyes. You will love it just as we do. Despite the nostalgia that it evokes, it still does the job tremendously. When you visit the website, it may seem strange, but if you take about a minute to take a look at it, it won't be that difficult to spot the option for posting an ad. As unique as it already is, you will have to press the Write Ad button. Before you successfully post your ad, you must register for an account if you don't have one yet. Unlike other online marketplaces, you won't be able to post anything without an account. Registration is easy. You must provide your name, username, email, and password. 
 8. GiganticList
You can turn to Gigantic List to expand your reach and get your advertisement even more popular. Posting an ad here doesn't allow any room for complexity. Other than the occasional ads you will come across, the website provides an effortless way to list a service or ads. Its interface design is made impressive by the orange and gray colors, both of which make it pleasing to the eyes. While there are chunks of ads, the site is well organized. 
If you are here to list or advertise, in less than five minutes, you can be done posting them. The Publish Your Add button isn't difficult to find. When posting about your product or services, you need to categorize wisely your product or services. It is the same with most listing platforms online. Make it as specific as possible. Once you have satisfied that, maximize the opportunity to send across your message by putting a catchy title and helpful description. Do your best to make it as short as possible, but not at the expense of important details. Among its strengths is it covers most English-speaking countries. Hence, it has a promising audience reach. So, in a lot of countries, you can use this website to improve your popularity and reputation online. 
9. Loot 
Loot is a classified advertising platform that has an excellent and professional-looking interface that it's hard not to give in posting your ad here. Loot has been around in the buy-and-selling game since the 80s. They continue to evolve as technology innovates. So, they have a platform that allows individuals to become a seller for any product they have. As a listing platform, its main goal is to let sellers advertise their products or services for free for almost any category.
Posting an ad doesn't leave room for any nonsense and guides you thoroughly. It provides options for categories to let you categorize accurately. The only section where you will have to think is in the description section. Mostly, however, they only serve sellers and prospective buyers in the UK. You can search for an international country if you are a prospective buyer. As a seller, you will only be able to post your ad if you have an account with Loot. If you don't have it yet, you can use your Facebook and Google accounts to log in. 
Loot is one of the best that can give you a pleasant experience when listing your service. So, hopefully, it widens its reach soon.
10. WallClassifieds
Wall Classifieds is another amazing listing platform online if you gravitate towards simplicity and minimalism. While there may be ads popping out from time to time, it provides a seamless step-by-step process for posting your ad. In many ways, it resembles GiganticList, but the atmosphere here is far cooler and looks better with its pastel blue tones. It has a worldwide scope, so anyone who's looking to have a great listing service to post an ad should check out this one. 
The Conclusion – There is more, but the list above is a good start!
This list could've been longer; however, the sites provided above should get you started as for finding a great Gumtree alternative. Take your time and browse through them to see which one is the best fit for your needs.