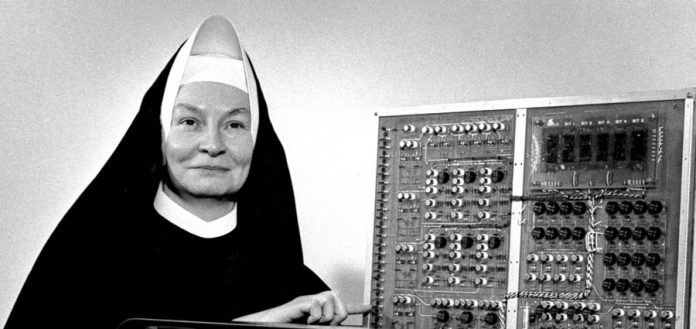 Though very less is been talked about women in IT sector, decades ago it was women in the forefronts of computer programming. One of those women was Sister Mary Kenneth Keller, an American Nun.
Sister Keller was born in Cleveland, Ohio in 1913. She entered the Roman Catholic Religious order- Sisters of Charity of the Blessed Virgin Mary in 1932 and took her vows in 1940. She completed both her Bachelors in Mathematics in 1943 and her Masters in Mathematics and Physics in 1953 from DePaul University in Chicago.
As a graduate student in the late 1950s and early 1960s, Keller studied at the University of Wisconsin, Purdue University, The University of Michigan and Dartmouth College. In 1958, she began working at the National Science Foundation workshop in the computer science centre at Dartmouth College, which was a males only institution at the time. But for Keller, they relaxed its rules of barring women from the centre.
It was here that she helped to develop BASIC (Beginners All Purpose Symbolic Instruction Code): a high level and general purpose programming language providing ease of understanding for the novice user. Before this, computers had to be custom programmed. Something that only Mathematicians or Scientists could do at the time.
At the Wisconsin University, Keller completed her dissertation titled "Inductive Inference on Computer Generated Patterns" and on June 7, 1965, became the first American woman to earn a PhD in Computer Science from the University of Wisconsin-Madison. Following this, she went on to serve as a member of faculty at Clarke College in Dubuque, Iowa. There she founded the Computer Science Department and served as its Chair for 20 years.
Catholic Nun, Mathematician, Computer Scientist – Keller died on January 10, 1985 at the age of 71. The Clarke University named its Computer Center after her and has also established the Mary Kenneth Keller Computer Science Scholarship in her honor.
Keller was a strong advocate for the use of computers in education. She helped to establish the Association of Small Computer Users in Education (ASCUE), an organization focused on helping teachers find ways to use computers to help their students learn.
Apart from being a pioneer in the field of Computer Science, she has also authored four books in the area. The potential Keller saw for the future of computing was ahead of her time. She believed that the use of computers have boundless capacity for the sharing of information.
Also read: Top 75 programming quotes of all time