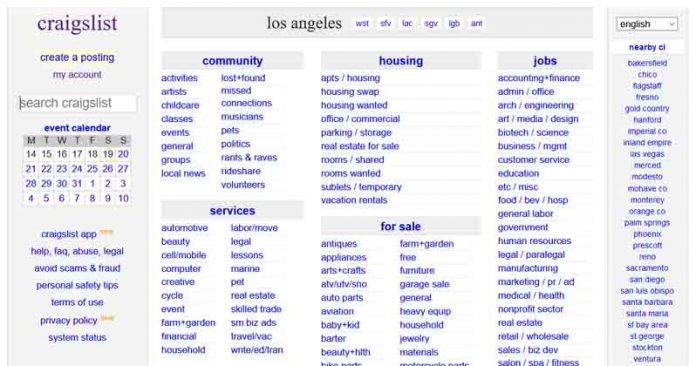 Let's get you warmed up with classified ads. Among the most common things that crop up when online advertising or marketplace comes into play is Craigslist. It's no wonder why given that it's one of the first in the industry.
Craigslist

alternative websites
If you want to let the world know about a service you offer or a product you sell, Craigslist is the right platform for that. It doesn't mean to say, however, that it's the only player in the industry. There is an undeniable wide array of effective alternatives to bring your business concerns online.
Stay tuned as we unravel the top 10 for that.
At the top of the list is FreeAdsTime.org because not only that its name sticks easily to mind, but its simplicity brings easy access and ease of use. What makes it among the best is it doesn't require you to have an account. As a resort, you can submit a guest ad.
When posting one, the first step is choosing a category and a subcategory, so you come closer to your target market right away.
Posting an ad on their website comes with great features as well. To name a few, you can view the number of visits you got. They also provide helpful guidelines on buying and selling so you won't get scammed.
As far as the user interface is concerned, this gets a five-star rating for its well designed, modernized website. It revolves around the same idea. It's an online marketplace that has incredible looks and great to the eyes. Like with the other key players in the industry, it also has categories, making it easier to look for what you're after.
What sets this apart from the most is it also acts as a search engine for other online ads. They have a Help Center that provides immediate answers to what you should do if you suspect that you had been a victim of fraud.
ClassifiedsFactor makes it to the list for its sheer fame. Unlike the first two, it isn't very straightforward to use. However, after playing around with it for about a minute or two, things will start to take shape.
While it has many categories that allow you to post under, the top five are merchandise, cars, rentals, real estate, and jobs. They have sections for pets and other vehicles.
When you post an ad, you have two options for getting started. Either you create an account or log in with Facebook. For verification and security, however, active Facebook is required. If you are a buyer or the audience targeted for the ads, the search bar is available for you.
H1Ad is another main competitor in the arena of the online marketplace. Like the FreeAdsTime, its website is organized and customized to enhance user experience. Posting a free ad is available across the globe. To do so, however, you need to have an account.
They do not just focus on the products; they also give attention to interactions such as classes, community, and events.
WallClassifieds.com is a lightweight website that's easy to navigate around. There is an option at the top right-hand corner to post an ad to "Publish Your Ad." It allows a seller 5000 characters to describe his/her product or services.
Among the sections or services that it focuses on are fitness and learning. What's great on this platform is they have articles about some random exciting topics that are worth knowing.
Searching for what you need is also straightforward. That option is readily apparent on the home page, where it sits in the center. The same goes for finding a local listing. You need to put in the category, your country, your city, and show you the listings available.
If you have an existing one, you will need to log in. If you need to create one, it will take 20 seconds approximately. Logging in with your Google account is also an option. One of its strongest selling points is the ability to read and respond to messages.
Gumtree is another well-designed website and very encouraging to navigate. To post an ad, an account will be required. Here, more options are available. You can log in via your Facebook or Google credentials. If you have reservations about doing that, you can create an account with them with your personal email address.
The striking feature is that their packages and parcels come with tracking items below 40kg. The website itself is a community. It isn't just a marketplace. It also is blogging and a testimonial platform. Their contents aren't everything about advertisements, but also about their advocacies. In the short term, they promote healthy living and trending topics as well.
Recycler is an online marketplace that draws its strength from automatically showing you ads that are readily available in your locality. The format is akin to that of a newspaper's classified ads section. The listings are categorized well, and the website is not uncomplicated.
It readily allows you to find what you are after. When it comes to posting an ad, you also get to have an option to support it with a photo, so you won't have to describe everything word-by-word. While it covers a pretty broad range of sections, it specializes mainly in pets and people service. It also has a mobile version and allows QR codes to make the transactions faster and easier.
Geebo, pretty much, has it all. With a clean user interface, it's not difficult to get what you're after. Either you are searching for an ad, a product, or a service, or you are aspiring to post an ad and be a service or a product provider yourself, Geebo has got you covered.
The website reviews all the submitted ads and filters them for possible frauds and scams to eliminate the dangers that commonly arise with online marketplaces. They have a page named "Scams and Shams" and "Common Scams", which you can resort to for some advice to avoid being deceived or scammed. The default location is the United States, which you can change to a US city, only to narrow down the scope.
FinderMaster defaults to your locality, so it's pretty nifty when it comes to making a transaction within your locality. There's less distraction that it's almost painless to post and add. There's a conspicuous button in yellow at the top right-hand corner of the homepage.
It allows you to include photos of up to five. While submitting an ad can be free, they also offer premium listing services. The cost varies depending on the duration that you want the ad to stay at the top. An account is required to add a listing, but you can register for a free one if you think you will be sticking to this platform for the long term.
H1Ad impresses when it comes to simplicity. The moment that you have landed on its homepage, you'd see right away "Free Classified Ads." While publishing a listing is obvious, it is composed of multi-page steps. Uploading a photo is available even for a free service.
Despite that, you can sign up for a premium option if you want more than just posting with a lot of flexibility. You can create an account. However, if you don't wish to do that, you can get away and proceed with your ad posting without an account. The process is intuitive. Nonetheless, it's not as seamless as a few that we talked about before.
It always helps to add a bonus to a list, and this is that bonus for this list. The DigitalMarketingHints ads section is another perfect place to visit if you're in the market to find a site similar to Craigslist.
Go ahead and visit it now to see if it is a good fit for your advertising needs.
The Conclusion – You Find Value in All of Them!
Go ahead and try them out! I'm certain you will come across some of the greatest classifieds of all time. You should land the item or service you're after in no time.
If you're in the market to sell, yet again, I'm confident you can do it in no time as well.
Also read:
10 Best Backpage Alternative Websites